Next Sunday, the Denver Broncos will take on the Carolina Panthers for the 50th annual Super Bowl.


Now I'm from the South, meaning we're a lot more into college football than the pros. However, we love an excuse to watch a pigskin get thrown around and more importantly, to EAT.


Since Cam Newton played for the college that shall not be named, I guess I'll be a Broncos fan for the day. But in the meantime, I'm more focused on what's really important — healthy Super Bowl snacks for your party!


You may be thinking football and healthy don't go together, but it isn't that hard to eat well while still screaming at the television screen.


When it comes to beer, you're on your own (but please call me if you figure out a way to make it healthy!) but when it comes to the snacks, we here at FitnessHQ have got you covered with options you can make yourself and easy things you can pick up at your local supermarket.


12 Healthy Super Bowl Snacks
1. Twice Baked Sweet Potato Skins
These are sure to be hit with both healthy and non-healthy eaters…I mean who doesn't like potatoes?


Ingredients


3 large sweet potatoes
1/2 pound of bacon
4 ounces of mushrooms
1/2 cup of coconut milk
1 teaspoon sea salt
1 teaspoon of pepper
Directions


Preheat your oven to 250 degrees F. Take your three sweet potatoes and stab holes in them with a fork before putting them in the microwave to cook. My microwave has a potato setting, but if yours doesn't, I'd recommend cooking them for around 15 minutes.
Meanwhile, clean and slice up your mushrooms.
When your potatoes are cooked, pull them out of the microwave. Cut them in half long ways (hotdog style). Then, cut each half in half, making four potato skins from each potato.
Put your bacon on a microwave safe plate on top of paper towels and pop it in the microwave for ten minutes or until it's cooked and crispy.
Using a spoon, clean out your potato skins, depositing the excess sweet potato in a separate container. Be gentle with the skins as they will tear easily, especially if they're still warm. 
Combine the excess sweet potato with coconut milk, salt and pepper and mix with a hand mixer, an emulsion blender, or a heavy-duty whisk until the mixture is creamy and smooth.
Take your bacon out of the microwave and crumble it into a skillet over medium heat. Add the mushrooms and cook for ten minutes. 
Using an ice cream scoop, deposit the excess sweet potato back into the skins. Then top it with the mushroom and bacon mixture.
Stick your potato skins in the oven for 20 minutes and serve.
2. A Shrimp Platter
This is another snack that even your non-Paleo friends won't be able to resist.


Shrimp is so yummy that I think a lot of people forget how good it is for you. It's loaded with antioxidants, omega 3s and selenium and doesn't contain many calories to boot.


You can swing by the grocery store and pick up a platter in the seafood section or if you're concerned about the quality of the seafood, pick up a pack of frozen or fresh wild-caught shrimp and make your own. Don't forget the cocktail sauce!


3. Salsa
Classic salsa is always a winner, especially when you can get creative with the things you're dipping in it.


Try using your shrimp to dip in the salsa or vegetables like celery. If that just doesn't do it for you, try a healthier homemade veggie chip or pick up a pack of spinach or kale chips at the store to dip. See, it's not that hard to stay healthy, you just have to get creative!


Ingredients


2 roma tomatoes
1/2 yellow onion
1 bunch of cilantro
Juice from 1 lime
1 teaspoon of salt
1/4 teaspoon of cumin
Directions


Finely chop your tomatoes, onion and cilantro before mixing them with all the other ingredients.
Use a food processor if you desire a more liquid-like consistency.
4. Roasted Red Pepper Hummus
This is not technically Paleo, as chickpeas are legumes, so beware if you're following a strict diet or completing a challenge.


However, if you're okay with chickpeas in small amounts, test this out on a veggie chip or celery — yum!


Ingredients


2 cans of chickpeas
1 jar of roasted red peppers
1 tablespoon of olive oil
1 teaspoon of salt
Directions


Blend all ingredients together in a food processor or blender and enjoy!
5. Mushrooms
We're biiiiig mushroom lovers at my house. There have been times when we were supposed to use mushrooms as an ingredient in a dish and we have ended up eating them all out of the skillet as we cooked them — oops!


Mushrooms are an awesome vegetable because they lend so much flavor while still soaking in so much flavor. Which means LOTS OF FLAVOR. Yum!


Ingredients


8 ounces of mushrooms — you can do small baby 'bella mushrooms for this recipe or kick it up a notch with larger Portabella mushrooms — your call!
1/2 cup of soy sauce (or coconut aminos)
Directions


Combine mushrooms and sauce in a zip lock bag three to six hours before party time. Let the mushrooms marinate during that time, soaking up all the yumminess.
After at least three hours, take the mushrooms out and cook them up in a skillet or throw them on the grill for a delicious time.
6. Steak Kabobs
Your friends are going to be wishing they ate healthy when they see you cooking these. They're colorful and hearty and make a great meal any night of the week, but especially during the Super Bowl!


Ingredients


Steak or stew meat
3 multi-colored bell peppers
1 vidalia onion
1 lime
Directions


Slice up your steak into bite-sized pieces.
De-seed and chop up your bell peppers and onion into approximately 1×1 inch squares. No need to break out the ruler here, just make them to where they'll fit and stay on a kabob easily
Put the steak, onion and pepper on a kabob, alternating in the order.
Squeeze a lime over the kabobs before placing on the grill and cooking for as long as you feel necessary. I like my steak medium-well, but it can still be moo-ing if that's your preference.
7. Pickle, Pepper and Cheese Antipasto
Ingredients


1 jar of dill or bread and butter pickles
3 green bell peppers
A block of your cheese of choice
1 teaspoon of olive oil
Salt and pepper to taste
Directions


Cut your pickles, peppers and cheese into bite-sized pieces.
Using toothpicks, spear a piece of pickle, a pepper and a piece of cheese.
Once you have all of your toothpicks full, drizzle olive oil and salt and pepper over the top before serving
8. A Veggie Tray
An oldie, but a goody, you can never go wrong with a vegetable tray. If you're really feeling creative, make your own and add foods your friends haven't tried before like
roasted beets
or sliced raw bell peppers.
If you're fine with picking up a tray but want to add a personal touch, throw out that greasy ranch in the middle and add some roasted red pepper hummus (#4) or some chunky avocado salsa (#11).


9. Seasoned and Roasted Nut Mix
This is such a simple snack to make, but beware. Nuts are great for you but are super high in fat content, so you do not want to put away a pound of almonds throughout the course of a football game.


Keep it light and enjoy


Ingredients


3 of your favorite raw nuts (Mine would be almonds, walnuts and cashews)
Sea Salt
2 of your favorite seasonings (Mine would be dill and rosemary)
A spritz of olive oil
Directions


Preheat your oven to 350 degrees F.
In a container, spritz your nut mixture with olive oil using an atomizer. If you don't have an atomizer, try a quick drizzle.
Add salt and seasonings and mix the nuts thoroughly so that they're all coated.
Place in the oven on a baking tray for 25 minutes. Let them cool before serving.
10. Dry Rub Jerked Wings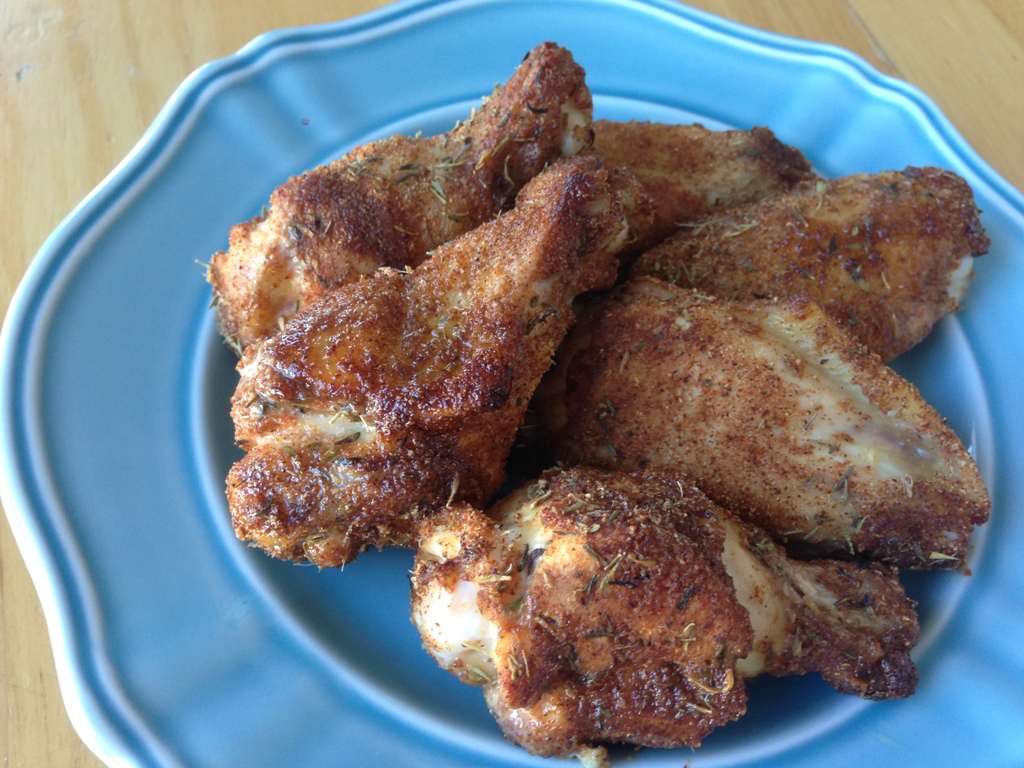 Yes, you read that right. Baked wings are a safe go to for game day!


Ingredients


1 teaspoon coriander
1 teaspoon ground ginger
1 teaspoon garlic powder
1/2 teaspoon ground cayenne
1 teaspoon dried thyme
1/2 teaspoon cinnamon
1/4 teaspoon allspice
1/4 teaspoon cloves
1/4 teaspoon salt
1/4 teaspoon black pepper
1 tablespoon brown sugar
1/2 dozen cut chicken wings
Directions


Preheat the broiler.
To make your own homemade jerk seasoning, mix together the spices – coriander through black pepper.
Toss the dry wings in the mixture until well coated. Grease a baking sheet and bake the wings under the broiler for about 10 to 12 minutes or until cooked through.
If you're feeling up to it, make extra jerk and save it for later use. It's great any night of the week.
11. Chunky Avocado Salsa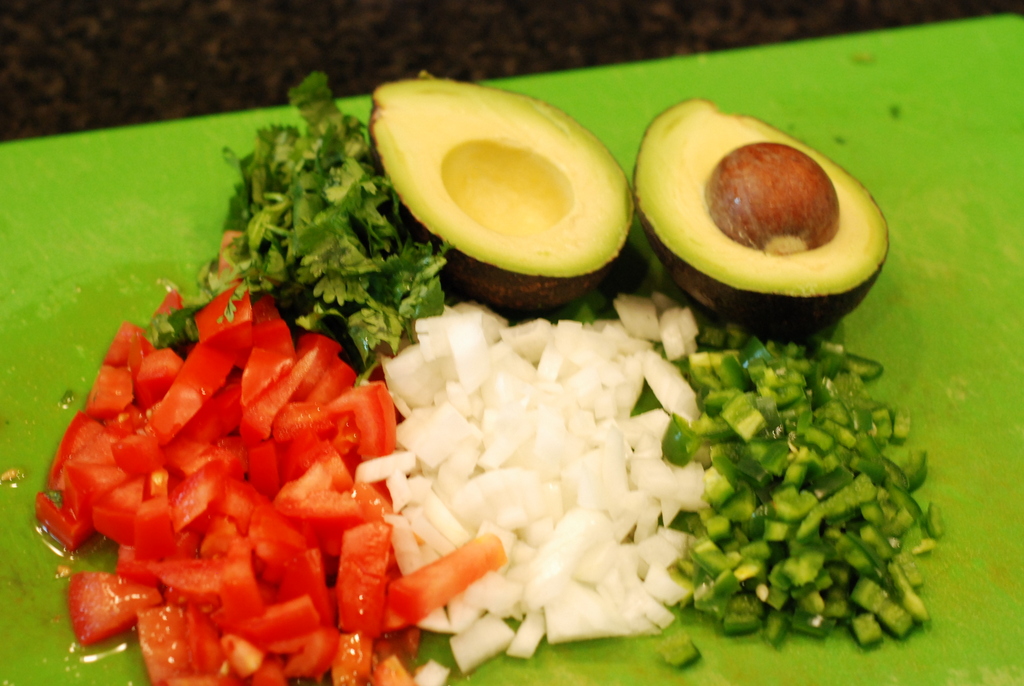 Ingredients


2 tomatoes
1/2 yellow onion
1 jalapeño
1 bunch of cilantro
Juice from 1 lime
1 teaspoon of sea salt
Directions


Simply dice up your tomatoes, sweet onion, jalapeño and cilantro.
Halve a couple avocados, remove the seeds, and dice.
Squeeze the juice of one lime onto the vegetables, add some sea salt, and gently mix — you don't really want a mash here… just a chunky "salsa". Voila!  A chunky avocado salsa.