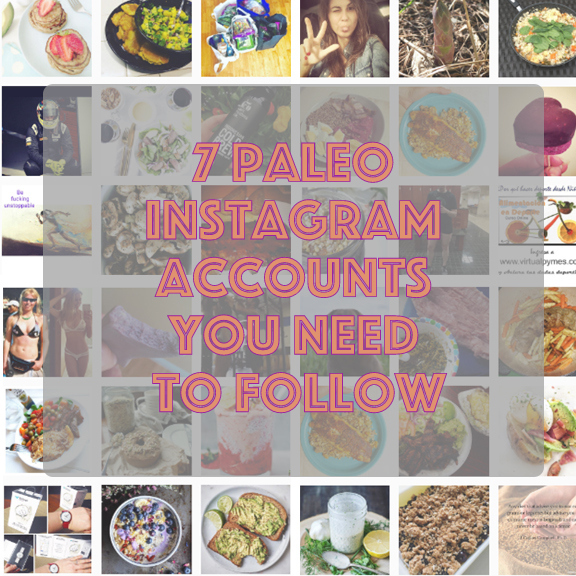 Sometimes social media can make it hard to stick to your clean eating habits. It's hard to stay
Paleo
when all you see are perfectly tailored lunch photos and Facebook is packed to the brim with easy how-to videos of yummy, sweet treats.
Social media can be a healthy eater's worst nightmare…or biggest ally, depending on how you use it. There are many people out there — bloggers, chefs, internet personalities and athletes — who dedicate their social media channels to sharing inspiration, recipes and the occasional picture of abs to keep you motivated.


Next time you timeline surf, take a few minutes to follow some of our favorite healthy eaters.


7 Paleo Instagram Accounts You NEED to Follow
Mary Shenouda, a.k.a.
the Paleo Chef
,  is a West Coast-based chef who quit her day job to follow her dreams of catering healthy food.
Shenouda discovered Paleo after a lifetime of illness and has now created her own product, Phat Fudge, which is basically always sold out. Not only are her recipes and photos incredible for dinner inspiration, but she's also just an all around fearless female. As a self-made machine, she constantly preaches the value of taking responsibility for your life, taking chances on your dreams and working your tail off to get where you want to be. Her custom hashtag is #eatplayCRUSH if that tells you anything about her level of badass-ery.


If you want some of the best food porn the internet has to offer, check out
PaleoPaparazzi
!
Kendra
is also West Coast-based and uses her blog to promote healthy eating and all things natural.
Her pictures alone are enough to make you want to scurry down to the farmer's market and create a glorious farm-to-table meal from scratch and her recipes make that goal very attainable.


Stef Gaudreau
 is a legit author and nutritionist who's been featured everywhere from Elle Magazine to Fox News. She's an ex-CrossFit Regionals competitor and combines her extensive credentials with a love for food and cooking to create StupidEasyPaleo, a resource for Paleo newbies and old hats alike.
She's also West Coast-based — something about California just inspires people to live better — and has an uber-successful podcast called Harder to Kill. Her signature is quick and easy recipes that don't require a million ingredients.


Michelle Tam
, the face behind NomNomPaleo is one of  my absolute favorite cookbook authors. Many of her recipes are staple meals in my household. She combines an ethnic upbringing with a love for food and flavor to create recipes that are relatively simple but pack a punch.
Many of Michelle's recipes are both Paleo and
Whole30
friendly and her main site is easy to navigate and packed to the brim with yummy recipes, advice and anecdotes. She's also a mom, which means that many of her recipes are things that even the kiddies will love.
Dr. Cardel
doesn't necessarily endorse the Paleo diet, but that's okay, because honestly, it isn't a perfect fit for everyone. What she does endorse is common sense eating habits and making health a priority.
The great thing about Dr. Cardel is that she's quick to call out faux-science bloggers and fitness gurus and she gives a lot of tough love when it comes to what's really good for you and what's not — we're looking at you, gluten-free movement. Not only that, but she has the credentials to back it up. We included her in this list because a) she's awesome and b) balance, duh.


Cardel is also a mom and a career woman and she's as real as it gets when it comes to helping your kids be healthier and dealing with things like nutrition in the midst of huge life changes — she and her family recently relocated across the country.


If you're ready for some serious egg envy,
Bob Bernotsky
is your guy. Seriously, please come cook me breakfast every morning.
Bob is just a normal guy who enjoys eating healthy and sharing his recipes with others. His recipes are no frills and his trademark is his perfectly poached eggs, which he puts in basically everything because gains.


Bob also proves that eating healthy and taking care of your body isn't only a woman's game — he's a meat lover who's dedicated to preserving his physique as long as possible not to achieve an endgame, but simply so he can enjoy his life and live it to the fullest.


You'll come for the recipes, but you'll stay for the adorable new baby!
Alexandra Raver
is a food blogger/new mom who excels in
AIP — or autoimmune protocol
— friendly recipes. Recipe photos interspersed with occasional glimpses of a newborn and lots of cats…what's not to love?
Raver tackles issues like how to eat healthy while breastfeeding, maintaining a strict diet while pregnant and how to eat avocados with anything and everything.