Depending on how you look at it, the weekend can be the hardest time or the most fun time for someone who enjoys clean eating.



It can be difficult because the weekend usually means less structure, more social time and the impulse to eat out or go for ice cream just because. It can be more fun because you can take time to experiment in the kitchen and really come up with some tasty meals that will wow the pants off of your tastebuds.



Here at FitnessHQ, we spend a lot of time in the test kitchen trying to come up with not only quick and easy healthy meals for you, but also fun and innovative recipes that you've never seen before. This recipe is a result of one of those test kitchen jam sessions, so we hope you enjoy it this weekend! Believe us when we say it's definitely better than a late night ice cream, or at least almost!




Magic Italian Stuffed Mushrooms with Salsa
I love stuffed mushrooms. Like, LOVE. So, when I decided to start taking my health a little bit more seriously, I of course had to find some alternatives to what was once my favorite restaurant appetizer. The great thing about mushrooms is that you can stuff them with pretty much whatever (within reason) and it's going to taste amazing. However, this combination is definitely a big winner at our house!



Ingredients



3 Portabella Mushroom Caps
1 Pound of Ground Pork
1/2 Box of Frozen Spinach
2 Cloves of Garlic
1 Tablespoon of Ghee
1 Teaspoon of Fresh Basil
1 Teaspoon of Oregano
1/4 Teaspoon of Thyme
1/2 Teaspoon of Rosemary
1/2 Cup of Your Favorite Salsa
Directions
Preheat your oven to 375 degrees F.
Heat your ghee in a skillet before adding ground pork. Cook the pork for five to ten minutes or until it's browned before pulling it off the heat and draining the fat.
Clean the gills out of the bottom of your mushrooms. You can find a helpful video on how to do that here. It's okay if yours don't look as pretty as hers do — ours didn't either!
Add the spices and salt and pepper to taste to your meat mixture and stir it in so that the meat is thoroughly coated.
Take your frozen box of spinach and divide it in half. Store the half you don't use. Take the half you do use and use a paper towel or dish towel to squeeze as much of the excess moisture out as possible. No one wants soggy mushrooms!
Using a spoon, fill each mushroom with the mixture. If you have some left over, throw it in the fridge and use it later in the week for a yummy egg scramble or breakfast omelet.
Once each mushroom is filled to capacity — you can really stuff those suckers as full as you'd like! — stick them in the oven. Cook for 25 minutes or until the mushrooms are soft.

After you pull the mushrooms out of the oven, let them cool before topping them with a big dollop of your favorite salsa. Yum!
I can be a little weird about eating mushrooms after they've been in the fridge for a few days, but I will say that these are an exception. These Magic Italian Mushrooms just seem to get more flavorful after a day or two of soaking up the spices and yummy mushroom flavor!



These would also be great for an appetizer or a snack. Simply use smaller mushroom caps and make sure not to overfill them and you have a portable Magic Italian Stuffed Mushroom.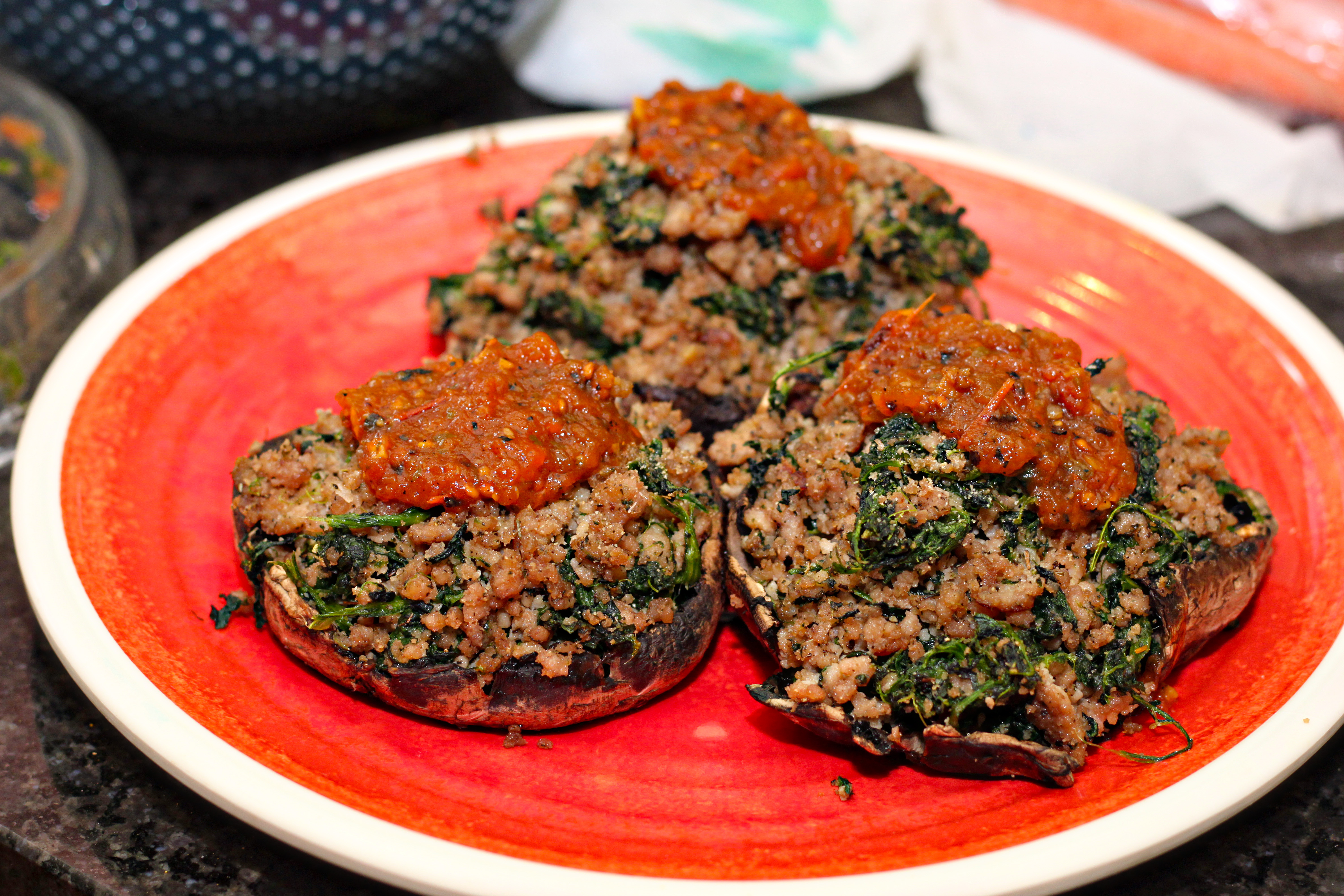 What are some of your favorite Paleo-friendly or healthy things to stuff into mushrooms? Let us know so we can try it ourselves!