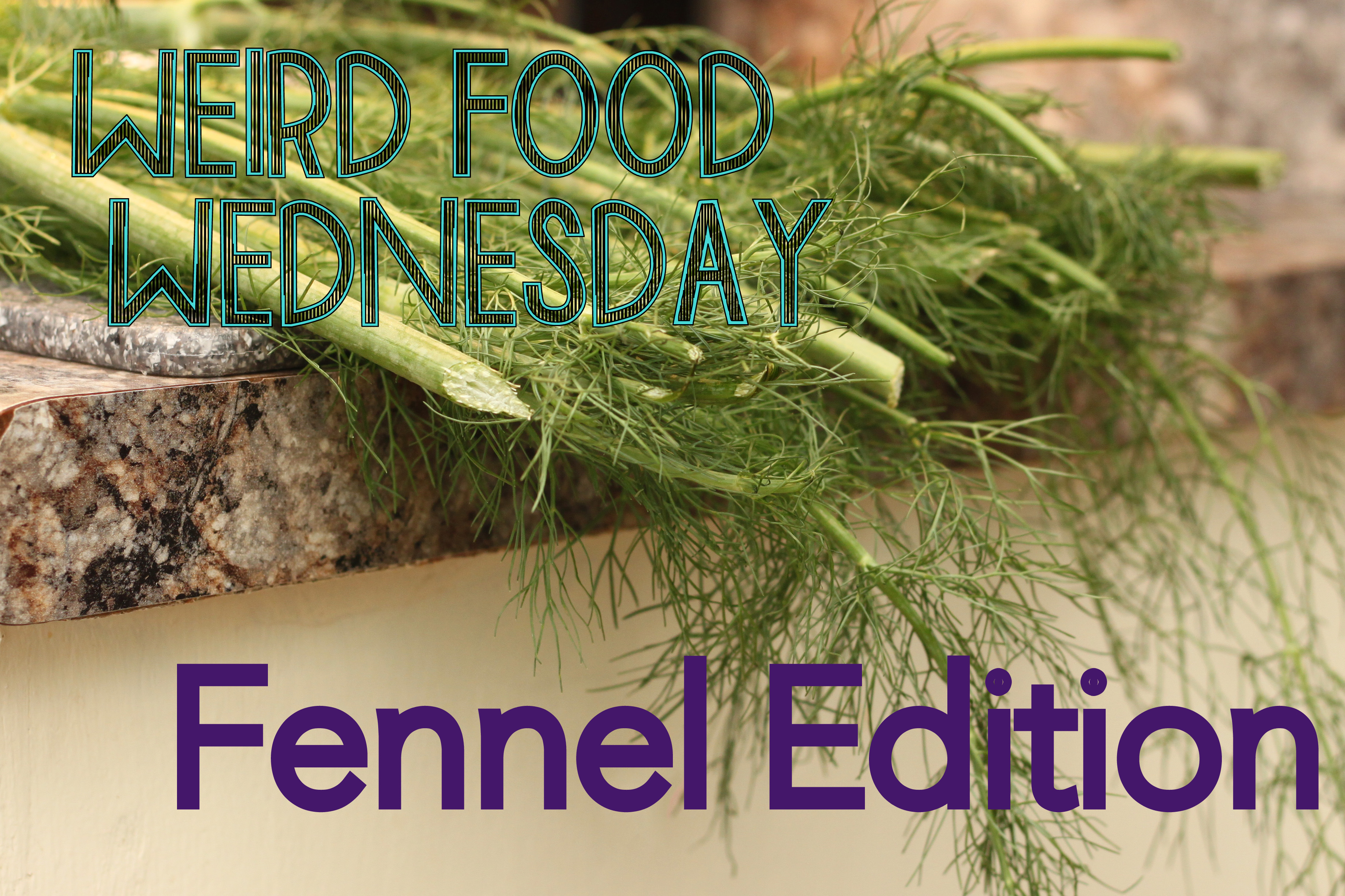 In our second installment of Weird Food Wednesday, we're going to show you how to incorporate fennel into a few recipes at home.
Fennel is a vegetable and it belongs in the same family as the carrot. The entire plant is edible, from the root to the feathery leaves that resemble rosemary.


Fennel originated in the Mediterranean and although you may not realize it, you've probably tried it before — it's the primary ingredient in absinthe. We took the vegetable in a little bit of a different direction — you may not see any little green men, but you're sure to have a full belly and happy tastebuds.


The fennel bulb has a very licorice-like smell and taste whereas the leaves are a little sweeter, but just as aromatic. Pick a bunch up the next time you're at the supermarket for a unique and yummy dinner, lunch or snack experience.


---
Roasted Fennel
I don't know if it's a universal truth or if we just really love vegetables at our house, but roasting any vegetable in the oven is usually a winning combination for us.


Ingredients


1 fennel bulb
1 tablespoon of coconut oil
1 teaspoon of ground mustard
1 teaspoon of parsley
Directions


Preheat your oven to 300 degrees F.
Cut up your fennel bulb into bite sized pieces and spread them out on a baking sheet.
In a microwave safe container, melt your coconut oil.
Once the oil is melted, add the ground mustard and parsley to the oil and mix. Use a silicone brush to brush the mixture over the bulb pieces before placing in the oven.
Cook for 20 minutes before serving.
---
Sweet and Sour Crunch Salad
Ingredients


1 cup of roasted fennel bulb
1 grapefruit
1/2 cup of pecans
Directions


Combine ingredients well. Add salt and pepper to taste and enjoy!
---
Cube Steak Meat Pie
Ingredients


3 white potatoes
1 cup of multicolored carrots (or regular carrots — it doesn't matter!)
1 cup of fennel leaves
1/2 cup of almond milk
2 pounds of cube steak
1/2 tablespoon of salt
1/2 tablespoon of pepper
1 tablespoon of coconut oil
Directions


In a small stock pot, bring three cups of water to a boil.
Meanwhile, wash, peel and chop your potatoes. Add them to the boiling water.
Chop your carrots and fennel into small pieces.
Place a sheet of plastic wrap on your cooking space and put the cube steaks on top of it. Place another plastic sheet on the tops of the steaks and use a meat tenderizer to beat the steaks flat.
Once your potatoes have boiled, drain them and mix in the other vegetables, salt, pepper and milk. Using a hand mixer or a hand masher, create mashed potatoes.
Spoon the mixture into two of the cube steaks, taking care not to overfill them (you can always save the potato mixture to serve as a side later in the week if you have extra)
Place the two leftover cube steaks on top of the cube steaks and use a fork to press down the edges, like you would a pastry.
Place the two cube steaks in a skillet over medium heat with a tablespoon of coconut oil. Place a lid on them and cook for ten minutes or until the meat is fully browned.
---
Fennel Fish Bake
Ingredients


2 filets of your fish of choice (I used cod just because it's cheap and easy to get)
1 1/2 cups of fennel leaves
2 tablespoons of bay leaves
1 tablespoon of paprika
2 tablespoons of garlic powder
Directions


Tear off two large pieces of aluminum foil.
Preheat your oven to 350 degrees F.
Place half of your fennel leaves in each piece of foil. Lay your fish filets on top of them.
Sprinkle the bay leaves, paprika and garlic powder on top of each fish filet and then wrap the aluminum foil around the fish.
Bake in the oven for 30 minutes before serving.
---
What's your favorite way to cook fennel?